Artificial intelligence (AI) is quickly becoming a mainstay in radiology, and it's helping doctors read mammograms more accurately than ever. AI is no replacement for an expert radiologist, but it is a highly trained, sensitive tool that can pick up subtle differences the human eye might miss.
Multiple studies have shown that AI-based computer aided detection (CAD) software that doctors use to mark areas of concern on a mammogram helps them diagnose breast cancer more accurately, while also potentially reducing unnecessary callbacks and biopsies.
However, the average person might not understand how AI works. Patients have a right to know about the technology their doctors are using to read their mammograms—especially if they're concerned a doctor might not catch potential cancers early enough, or if they've been recalled before for what turned out to be a false positive.
To learn more about why patients should put their trust in AI technology, we spoke to the CureMetrix Chief Medical Officer, Dr. Alyssa Watanabe. Here's what she had to say:
ABOUT DR. WATANABE
Dr. Alyssa Watanabe, MD, FACR is Chief Medical Officer at CureMetrix, Inc., and a Clinical Associate Professor at USC Keck School of Medicine. A trailblazer in artificial intelligence for medical imaging, she is an experienced radiologist with expertise in mammography, neuroradiology and she has served as president of the American Society of Spine Radiology. Dr. Watanabe has published scientific articles in numerous journals, including Radiology, American Journal of Roentgenology (AJR), Journal of Digital Imaging, and the American Journal of Neuroradiology.
What got you interested in AI for medical imaging?
Five years ago, I had never heard a radiologist use the term "AI." However, once I learned more about what it could do, I realized this was a revolutionary tool for medicine. I wanted to get in on the ground floor, and help doctors use this technology to improve their diagnostic abilities.
The original Chief Medical Officer at CureMetrix, Dr. Bill Bradley, first sparked my interest in AI specifically for mammography when he invited me to join him at the company. He was a world-renowned radiologist and a former Chair of Radiology at UCSD. I could not pass on the opportunity to work with him, do research, and help develop an AI product for reading mammograms. I haven't looked back since—no regrets!
How would you explain what CureMetrix AI does to someone who's never heard of AI before?
AI enables computers to learn from previous examples and then extrapolate findings based on what it has seen before. Basically, the computer is able to process millions of images, learn what is and is not cancer, and then evaluate current images based on what it has learned. Advanced forms of AI can now learn to do a specific tasks independently, without humans telling it exactly how to learn that task.
One example I like to use is that reading a mammogram is a lot like "Where's Waldo?" Doctors are trying to find something small against an extremely busy background. AI can learn what to look for in an image very quickly and detect automatically—all without getting tired or distracted like humans do. AI products like CureMetrix solutions cmTriage™ and cmAssist® make our jobs easier, and they make us better at our jobs.
How is AI different from the usual tools my doctor uses to read mammograms?
Traditional computer-aided detection (CAD) software that almost all radiologists use to read mammograms do not use the most advanced technology available. CureMetrix AI-based CAD solutions, however, use essentially the same technology that an ATM uses to read a check you deposit. They're trained using millions of mammogram images to categorize cases by level of suspiciousness, and score specific areas based on how likely they are to be malignant or need additional workup.
Breast imaging is complicated, and for doctors, working with AI is like having an extra set of eyes on every mammogram. With the help of AI, radiologists can now read images and detect abnormalities with higher accuracy and consistency. Products like cmTriage sort and prioritize the highest-risk mammograms, and products like cmAssist then flag specific suspicious areas on individual images, assigning them a "suspicion score" to indicate the level of concern. Once something is flagged or detected, the radiologist then determines how best to treat the patient, based on other findings and the patient's medical history.
Is there any proof that AI can help radiologists read mammograms more accurately?
Yes. In a published study, cmAssist demonstrated an average 27% increase in radiologists' rate of cancer detection without a significant increase in false-positive recalls. In another study, radiologists using AI-based CAD saw a 69% reduction in false positive markings, compared to a traditional, non-AI CAD.
Those are some great numbers, but here's what it actually means for patients.
Statistics show that a patient's breast cancer survival rate is five times higher if their cancer is caught early. Research by the MD Anderson Cancer Center recently found that by using cmAssist, their imaging clinic could save up to 35 more patient lives per year.
On the flip side, a false positive on a mammogram, and the subsequent recall and biopsy process, is an experience that can create lasting anxiety. Being recalled for further screening requires many women to take time off work, find childcare, or otherwise rearrange their lives. Reducing false positives, and thereby unnecessary recalls and biopsies, saves patients time and money, and can be better for their mental well-being.
Can patients benefit from AI outside of their doctors' office?
Definitely. One of the best examples I can think of is DocPanel, a service that provides online second opinions for patients by subspecialty-trained radiologists. Patients can upload their mammograms to a secure online system, and a DocPanel radiologist selected by the patient uses CureMetrix AI to render a second opinion. This is truly empowering for patients, and it gives them the peace of mind they deserve, whether they're confirming a negative result or making sure they're getting the best treatment plan possible for a positive result.
Have you personally used AI to help diagnose patients?
Yes. In March of 2020, I worked through DocPanel with Marium*, a 37-year-old woman who had been diagnosed with a lump in her left breast. I used the CureMetrix AI software to give her a second opinion on her mammogram and catch what turned out to be early breast cancer.
Marium knew she had a tumor, but her initial screening didn't clearly indicate whether it was benign or malignant. At the time of her mammogram and breast ultrasound, she was not experiencing any symptoms indicative of breast cancer. She had occasional pain in her breast but did not have any other worrisome signs, like nipple retraction, irritation, or swelling. Just a few years prior, though, Marium's sister had died of breast cancer, at the age of 52. As a result, Marium was also concerned there could be other tumors and was very worried that they could potentially be life-threatening. Therefore, she had a lot of questions about how to proceed and wanted a second opinion.
Marium uploaded her initial breast ultrasound and mammogram to DocPanel from her home, and I reviewed it using cmAssist. The cmAssist reading confirmed that her tumor was likely malignant, assigning it a very high suspicion score (called a neuScore™) of 98, on a scale of 0 to 100. With the help of AI, I was able to determine that Marium's case most closely resembled an infiltrating ductal carcinoma, and recommended she get a biopsy immediately to confirm the presence of cancer. Marium now had the clarity she needed to move forward with a biopsy and then treatment.
Thanks to cmAssist, I also found smaller, benign lesions in her breast and in one of her lymph nodes, neither of which had been detected in her initial scan. This level of detail provided Marium with the peace of mind knowing that her mammogram had been evaluated as thoroughly as possible.
*To protect her privacy, I will not reveal the patient's real name. You can read more about her story on DocPanel's blog.
Why should patients trust a diagnosis from a doctor who has used an AI tool to help them interpret their mammogram?
I think most of my colleagues will now agree that radiologists who use AI will outperform those who do not. AI enhances accuracy and helps radiologists reduce errors. The CureMetrix AI detects cases that are most likely to be suspicious, and puts those at the top of a radiologist's worklist, giving them more time to focus on the cases that need the most immediate attention—and, very importantly, spend more time with patients.
If you're a breast imaging patient, and would like to see how AI-based mammography works, upload your latest mammogram to DocPanel for a second opinion from an expert radiologist using CureMetrix AI.
To learn more about cmTriage and cmAssist and what they do for your doctor, visit here .
---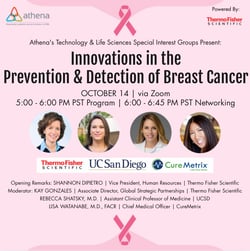 Interested in learning more about the prevention of breast cancer and how to take ownership of your health and well-being? Join, Dr. Alyssa Watanabe and her esteemed colleagues at Athena for a special virtual Breast Cancer Awareness event:
"Innovations in the Prevention and Detection of Breast Cancer"
October 14, 5:00 – 6:00 PM PST Program, Followed by networking