Razelle Kurzrock, MD, CureMetrix Board Member, was recognized as Woman in Tech and a Woman of Influence by the San Diego Business Journal.
Board-certified medical oncologist, practicing physician, researcher, and business leader, Dr. Kurzrock has led the evolution of the CureMatch Decision Support System that supports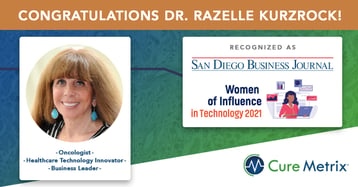 the doctor with therapeutic options based on the molecular profile of the patient. She is also known fordeveloping one of the largest and best-known Phase I clinical trial programs in the United States while at MD Anderson Cancer Center in Texas. She most recently led UCSD's Center for Personalized Cancer Therapy at the Moores Cancer Center and served as a Distinguished Professor of Medicine/Associate Director of Clinical Science at the UCSD School of Medicine.

___________________________________________________________________________________________________