Well-respected Radiologist Brings Over Three Decades of Experience to AI-Focused Global Health Technology Company.

La Jolla, California, December, 2020 — CureMetrix, Inc., a global healthcare technology company that develops AI-driven software for radiology, today announced that Marie Tartar, MD, an accomplished diagnostic radiologist and breast imaging specialist with over three decades of experience, will join the company as Vice President of Medical Affairs.

Together with the company's chief medical officer, Alyssa Watanabe, MD, FACR, Dr. Tartar's focus will be to expand the voice of the radiologist in product development, support client-based research, and engage with key audiences and esteemed institutions across the radiology ecosystem.

"Quality, utility, and efficacy are the key ingredients in the development of CureMetrix AI solutions, and as a master in the field of medical imaging, Dr. Tartar brings a seasoned clinical eye to support our strategy," said Kevin Harris, CEO of CureMetrix. "Her expertise will help to augment our AI-based CAD and emerging digital imaging solutions to assist the broader radiology practice so that doctors can better serve their patients with the data-driven information they need. We are honored to work with her as part of our leadership team."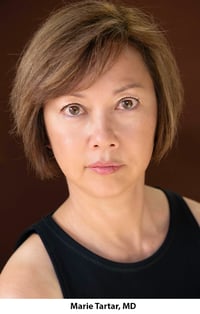 Dr. Tartar is the Director of Advanced Breast Imaging for Scripps Clinic Medical Group, based at Scripps Green Hospital in La Jolla, California. She received her medical degree from the University of Arizona College of Medicine. She then completed her radiology residency at Mallinckrodt Institute of Radiology at Washington University, St. Louis, and a fellowship at the University of California San Diego. During her decades with Scripps Clinic, Dr. Tartar served in a number of radiology leadership roles, including as volunteer teaching faculty at UC San Diego School of Medicine and as a past president of the San Diego Radiological Society.

A longtime proponent of advancements in the field of medical imaging, Dr. Tartar has published a number of scientific articles in peer-reviewed journals including the European Journal of Nuclear Medicine and Molecular Imaging, Radiology, and the American Journal of Roentgenology as well as lead authored two textbooks: Clinical Atlas of PET With Imaging Correlation (2004, with Kipper MS), and Breast Cancer Imaging: A Multidisciplinary, A Multimodality Approach (2008, with Comstock C and Kipper MS).

Dr. Tartar says she is excited to join the CureMetrix leadership team, noting the team's dedication to developing world-class products including cmTriage™ and cmAssist® that help radiologists serve their patients even more effectively. Said Dr. Tartar, "CureMetrix's mission combines many of my professional and personal passions. I am eager to work with them on intelligent, AI-based solutions that support radiology practice with the goal of saving patient lives through improved diagnosis."

In addition to her clinical imaging achievements, Dr. Tartar is also an award-winning nature and underwater photographer.

About CureMetrix

Delivering CAD that Works®, CureMetrix is a global leader in artificial intelligence (AI) for medical imaging, committed to the advancement of technology that improves cancer survival rates worldwide. CureMetrix supports the radiologist to dramatically improve the accuracy of detection and classification of anomalies in mammography. Our mission is to save lives and support better clinical and financial outcomes. www.CureMetrix.com

About CureMetrix Solutions

CureMetrix is the creator AI mammography solutions cmTriage™ and cmAssist®

cmTriage is the first FDA-cleared AI-based triage solution for mammography in the U.S. Studies have shown that with cmTriage, radiologists can realize up to a 30% reduction in mammography reading time while supporting the overall practice to streamline workload.

In studies published in the Journal of Digital Imaging, CureMetrix cmAssist AI-CAD was able to demonstrate the ability to reduce false positives by 69% over traditional CAD and help radiologists improve their breast cancer detection rate on average 27%, without increasing recall rates.