Women have far better chances of survival if their breast cancer is diagnosed and treated early. Unfortunately, despite the best efforts of radiologists, nearly one third of breast cancer cases are missed in early mammogram screenings.
This is because conventional computer-aided detection (CAD) software does not differentiate very well between benign and potentially malignant marks, particularly in dense breasts, and often creates extra noise, leading to false positives that take time away from assessing the truly suspicious scans.
Better technology is here. CAD that utilizes artificial intelligence (AI) to assess screening mammograms has been proven to help radiologists spot more cancers earlier, saving patient lives. Multiple research studies have examined the efficacy of CureMetrix AI mammography solutions for triage and detection—and they have proven again and again that AI-based CAD for mammograms leads to more early, accurate detection and fewer false positives – leading to better clinical outcomes.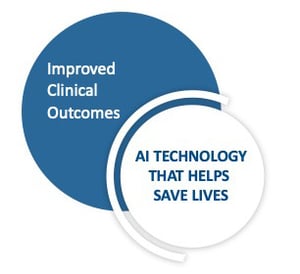 AI Catches Missed Cancers
The most obvious benefit of AI-based CAD for breast imaging is its ability to correctly detect more cancers earlier. CureMetrix has collected millions of images from around the world and curated those images to help build the algorithm that is the backbone of the software. This vast dataset has helped to make the algorithm more sensitive and helps in continuously refining its ability to find potentially malignant lesions across a variety of breast densities. One study found that use of the CureMetrix AI-based diagnostic tool cmAssist increased radiologists' cancer detection rates by 27%.
In another retrospective study, researchers examined 2,129 screening mammograms, without exclusions, conducted across three months by an academic breast center with up to five years of follow-up data, and used CureMetrix AI to retroactively analyze each exam. When these mammograms were assessed by the CureMetrix AI-based CAD, it was able to correctly identify three more cancers in addition to the 15 that were originally caught by the radiologists.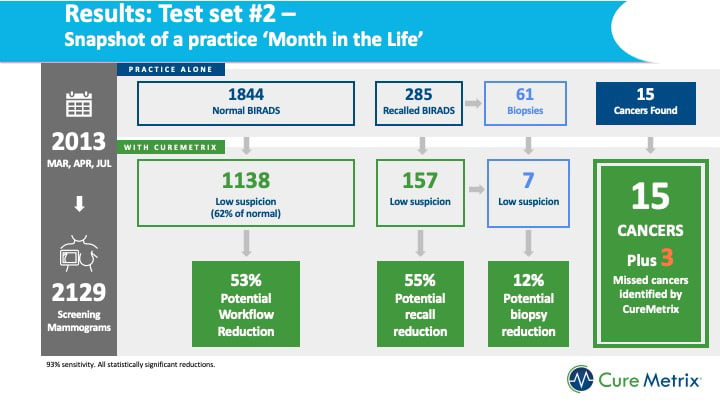 AI Reduces False Positives
AI also improves clinical outcomes by helping to reduce false positives. False marks on mammograms may not seem like the greatest threat, but they add up to a lot of time for radiologists, who then have less attention to devote to the truly suspicious lesions. Studies have shown that every false positive per image (FPPI) in mammograms can take between 3-7 additional seconds apiece for radiologists to read and disregard. Multiply that by the dozens of FPPI that are often flagged by traditional CAD, spread across hundreds of patients per day, and those seconds add up to hours taken away from patients whose cases are truly suspicious and really need the extra scrutiny.
A study conducted by MD Anderson Cancer Center found that use of cmAssist® resulted in a 69% reduction in false positives marks, leading to potentially fewer unnecessary patient recalls and leaving more time for accurate diagnoses. Furthermore, radiologists using traditional, non-AI CAD had recalled 285 patients for further screening, and 61 percent of them ended up having biopsies. Radiologists using CureMetrix AI on the other hand, correctly identified 157 of those recalled cases as low suspicion/false positives, demonstrating the potential for a 55% decrease in unnecessary recalls and the possibility of 12% fewer unnecessary biopsies.
Radiologists deserve tools that enhance their expertise, assisting them in making earlier detection of cancer and increasing patients' chances of progression-free survival. CureMetrix is using AI to disrupt the traditional CAD software that doesn't serve patients or contribute to practices as well as it should. Better technology for radiology is here, and we are committed to using AI to ensure all breast imaging patients get the care they deserve.
---
Featured AI Solution – Supporting Improved Clinical Outcomes
cmAssist – Intended to identify, mark and score regions of interest on screening mammograms.
Request more information and learn about our No-Cost Trial License to improve patient outcomes.